Posted on Tuesday, November 13th, 2012 at 11:19 pm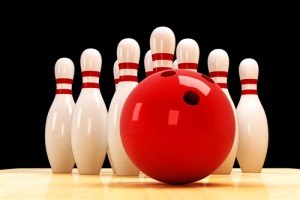 The 2007-2009 recession hit a devastating blow to both individuals and businesses and, with what many consider another recession around the corner, many are still reeling. The unstable U.S. economy of 2012 hasn't done much to ease concerns as businesses try to bounce back.
An example of a business struggling in this economic environment is AMF Bowling Worldwide Inc., which has filed for Chapter 11 bankruptcy for the second time in 12 years. AMF is the world's largest bowling alley operator with 270 locations in the United States and 20 million customers a year.
According to Reuters, AMF will hand control over to its lenders and sell some of its assets to help manage its debt. The Virginia-based company listed a total of $100 million to $500 million in assets and liabilities in its bankruptcy filing. Officials at AMF cite the recession and the current economic downturn for the company's struggles as major bowling league memberships have dropped 36 percent since 1998.
AMF Bowling locations will continue to operate as normal during the restructuring process, which is expected to be completed by April of next year. The company already has $50 million lined up in operating costs and will receive $150 million more from lenders. AMF previously filed for bankruptcy in 2001 and emerged from protection in 2012.
Posted on Monday, July 9th, 2012 at 9:04 pm
Houston-based power company Dynegy Inc. filed for Chapter 11 bankruptcy protection last week in order to bounce back from falling electricity prices. Dynegy Inc. plans on merging with its subsidiary Dynegy Holdings, the Wall Street Journal reports.
Plunging electricity prices has caused the company to surpass $5 billion in debts and its shares to plunge by 91 percent. In the first quarter of this year, Dynegy reported a loss of $58 million.
In order to pay back its creditors, Dynegy will pay them 59 to 89 cents on the dollar in cash or equity. Its coal and natural gas power plants will continue to operate as usual during bankruptcy proceedings.
If you need help during this stressful and confusing time, contact the bankruptcy attorneys at the Law Office of Russell Van Beustring, P.C. by calling 713-973-6650.
Posted on Monday, May 14th, 2012 at 8:16 pm
Educational publishing company Houghton Mifflin Harcourt filed for Chapter 11 bankruptcy protection last week in order to eliminate its $3.1 billion debt. More than 70 percent of its creditors have approved of the company's restructuring plan.
The publisher began to struggle in 2006 and 2007 when an Irish educational publisher borrowed money to acquire Houghton Mifflin and Harcourt. Officials plan on converting its long-term debt into equity. No employees are expected to be laid off and operations will continue as usual during the bankruptcy process.
Houghton Miffilin Harcourt has recently teamed up with Amazon to license and distribute books published by Amazon's new publishing unit.
Filing for bankruptcy can be scary and complicated. If you need help with the bankruptcy and debt settlement process, please call the experienced Chapter 11 bankruptcy attorneys from the Law Office of Russell Van Beustring, P.C. by calling 713-973-6650.